DJ Services for your Wedding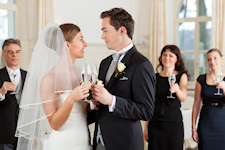 Let DJ Jack Labarko, Inc. help make your wedding dreams come true! Planning a perfect wedding can be very stressful and challenging. There are so many fine details that can make or break your wedding day. Rest assured, when you select DJ Jack Labarko, Inc. for your entertainment, you will enjoy a smooth-running, worry free wedding day. We are professional DJs, who specialize in weddings, and take what we do very seriously.
Every wedding is unique, and we tailor our services based off the bride and groom's specifications. Our headliner DJs will schedule multiple meetings with our clients for personalized, pre-event planning. Our experienced DJs coordinate with caterers, photographers, videographers, banquet facilities, and all other wedding vendors involved during the reception to ensure a successful event.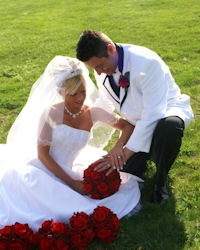 All dates are secured with a signed contract and a retainer fee. DJ Jack Labarko, Inc. only uses professional, state of the art sound and lighting equipment to deliver amazing sound quality along with a captivating light show! Professional grade wireless microphones are available for the dinner toast and prayer. Our DJs are always formally attired at every event. We are Professional Emcees and can make all your announcements during the reception. Novelty party props are available upon request.
Wedding receptions are a very diverse crowd with all age groups. Our professional, experienced DJs know how to read a crowd, and keep the dance floor packed all night long. We deliver the right music at an appropriate, comfortable volume level. We accept requests from your guests, but we do use our own expertise to only play the most appropriate ones. DJ Jack Labarko's Headliner DJs are very adaptable to what the event may call for, from a very low key, relaxed environment, to a high-energy, interactive performance. Our extensive music library is updated weekly, and covers all genres from the 1940s up to the most current releases. All new music is radio edited with appropriate content for everyone's enjoyment!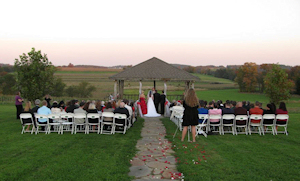 Wedding Ceremony Services
In addition to wedding receptions, DJ Jack Labarko, Inc. also provides music and sound reinforcement for wedding ceremonies. Whether you need pre-recorded music played or a PA system for anyone that will be speaking during the ceremony, DJ Jack Labarko, Inc. has you covered. We have professional grade, hands free wireless lapel microphones for the officiant performing the ceremony, along with a small sound system for any music to be played during the proceedings. We have all the traditional full orchestra versions of your favorite classics needed for the ceremony. Our headliner DJs will work hand in hand with you to help plan the layout, and make your dream ceremony a reality!