History of DJ Jack Labarko, Inc.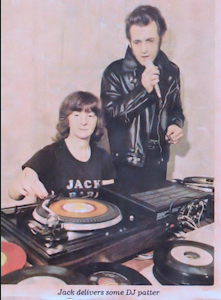 Jack Labarko saw American Bandstand for the first time in 1957 when he was hospitalized at Lee for Rheumatic Fever. When he left the hospital, he gained what was to be a lifelong case of 50's fever and an incurable itch to be a disc jockey. As a teen, Jack danced five days a week on an old WARD-TV program hosted by Herb Ruth called "Record Rack." It was here that Jack learned all of the famous 50's dances and gained a vast knowledge of music. Upon graduating high school, he went to work for Bethlehem Steel Corp of Johnstown where he was steadily employed for 18 years. During that time he met his wife Barbara, who shared Jack's love and admiration for music and Elvis Presley. After they got married and had three boys, the famous flood of 1977 devastated the Johnstown region. After the flood, the economy in Johnstown changed dramatically, especially in the steel industry. Jack got laid off, frequently working only 4 months out of 37. One thing that never changed for Jack and Barbara Labarko was their love for the music. One of their favorite past times was going to local dances where Herb Ruth would be spinning oldies. At the Sock Hops they would dance together to all their favorite hits. Eventually Herb would hire the couple to accompany him to class reunions to demonstrate these dances. During one of these events Herb became ill and had to have Jack & Barb finish the dance. It was then that the couple realized this was the answer to their financial troubles.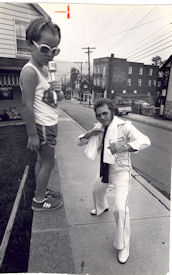 Jack enrolled in a speaking class at Johnstown's Vo-Tech School taught by local radio personality Chuck Bender. The Labarko family began compiling an enormous record collection from George's Song Shop located in downtown Johnstown. They also paid on a sound system for a whole year before being able to finally go into business. It started out slow but after a few events, word of mouth got around and eventually the bookings increased to an average of 47 a year. They billed themselves as "The Jack & Barbara Labarko's Oldies Show! The Dancing DJ's." The show consisted of Jack & Barbara Labarko playing the famous dances from the 50's such as "The Twist," "The Stroll," and "The Hand Jive." While these records would play on their turntable they would rush out to the dance floor to demonstrate how it's done. If you didn't know how to do these dances when arriving at one of these events, it was certain that you would by the time you left.
In the summer of 1983, Jack and Barbara decided to pay tribute to their life long hero, Elvis Presley, in their Oldies Show. Jack grew out his sideburns and had a sequined jumpsuit made. With "2001 A Space Odyssey" on the turntable, Jack would emerge wearing the white jumpsuit with his arms spread while genuflecting on one knee, he would say "This is our salute to the King of Rock N Roll." Jack would do some of those signature karate moves before cutting loose into a mix of Elvis' hits. Finally he would end that segment of the show by handing out scarves as Elvis did to the ladies. The act gained a lot of notoriety and soon The Labarkos appeared in several newspaper articles and even on a segment of the WJAC-TV local news. This exposure helped get the word out there and the bookings began pouring in for the Labarko family.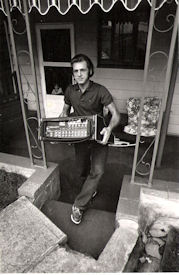 Jack's biggest fans were his 5 kids. Jack Jr., Aaron Elvis, Derek, Barbie, and Brent all watched as their parents would load all those records and sound equipment into the family car week after week. Even at times helping Jack set up the equipment. The kids were always involved with the business from early on. While their parents were out spinning records on a Friday or Saturday evening, the kids would be entertaining their grandmother. They would either be playing records on their portable turntables, dancing The Twist, or even wearing a jumpsuit impersonating Elvis!
Tragedy struck in 1993 when Jack lost his 8 month battle with Lung Cancer and passed away. He left behind a music legacy for his children. His wife Barbara and the oldest of the 5 kids Jack Jr. kept the beat going! As each of the 5 kids grew old enough, they followed in Jack's footsteps into the business. DJ Jack Labarko, Inc. is now owned and operated by Aaron Elvis, Derek, And Brent. The three of them have taken the business to a whole new level, expanding into several of the surrounding counties, updating all the sound equipment and lighting, and transferring all of Jack's oldies into digital format. The boys stay busy during the summer playing an average of 50 weddings a year. They also provide music for many of the local schools and night spots.
Meet Our DJs
| | | |
| --- | --- | --- |
| Aaron Elvis Labarko: Owner, Headliner DJ/Emcee, Elvis Tribute Artist, & Financial Manager | Derek Labarko: Co-Owner, Headliner DJ/Emcee, Elvis Tribute Artist, Interactivity Specialist, Business Manager/Advertisement | Brent Labarko: Co-Owner, Headliner DJ/ Emcee, Service Manager, & Technical Advisor |