Elvis Tribute Artist Services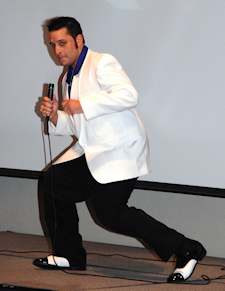 In addition to disc jockey services, DJ Jack Labarko, Inc. also offers Elvis Tribute Artists. We cover two different aspects of Elvis Presley's life. We focus on the young Elvis from the mid 1950's when he first got started and revolutionized poplar music, and we cover the later years known as the "Vegas Period" when he returned to live performing wearing the famous white jumpsuit. Both of the tribute artists color their hair Jet Black as Elvis did throughout his life. Either tribute artist is available for an add on to the disc jockey service or as a separate entity for public appearances to sing, dance, pose for pictures, or simply greet your guests.
The "Young Elvis" is done by one of DJ Jack Labarko's owners Derek Labarko. To give the act an authentic feel, Derek wears some of the same flashy clothes that Elvis wore during the early 50's bought in Memphis from the famous "Lansky Brothers" clothing store on Beale St. This is the very store Elvis purchased those clothes. During the act, Derek performs the moves made famous by Elvis, while singing to some of those early songs that Elvis recorded during this time.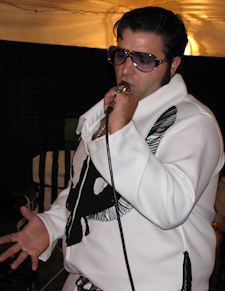 The other phase of the Elvis act is done by Derek's older brother and other owner of DJ Jack Labarko, Aaron Labarko. During this part of the routine, Aaron will perform wearing a white jumpsuit, and make his grand entrance as Elvis did to the Theme from "2001 A Space Odyssey." After coming out Aaron will bow down on one knee as the king did, and do some of Elvis' signature karate moves before breaking into a mix of Elvis' most popular songs. Finally, Aaron will end the act to "Can't Help Falling In Love" handing out scarves as Elvis did at the end of every one of his concerts in the later years.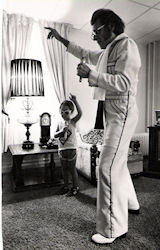 Elvis Presley played a main role in the lives of the Labarko family. Their parents were life long Elvis fans and he was a regular presence in their upbringing. At the Labarko Household, if they weren't listening to one of Elvis' many gold records, chances are they were watching one of Elvis Presley's 33 movies. Jack Labarko, their father and founder of the company, was one of the very first Elvis impersonators after Presley's death in 1977. Aaron and Derek grew up watching and learning from their father, while he performed countless shows throughout the region. Aaron himself was actually named after Elvis, with the King's name being "Elvis Aaron Presley," the Labarko's reversed the name for Aaron, whose full name is "Aaron Elvis Labarko!" Elvis' lifelong friend, George Klein, was right when he said to Aaron, Derek, and Brent Labarko, "You guys are the real deal!" The 3 boys make annual visits to Memphis to celebrate the life and memory of Elvis every August. During these visits they have befriended many of Elvis' inner circle and close friends, which can be seen in detail in the photos below.